Need for Speed Payback Story Trailer Introduces New Characters, Cars and Story Details
The Need for Speed Payback news just doesn't stop, with Ghost Games today releasing a Story Trailer for the game, revealing new details on the narrative, protagonists and new characters.
Throughout the trailer, you can spot certain sequences from Heist missions and cop chase moments, including blowing up a train bridge and driving under a crashing police helicopter. You can check out BlackPanthaa's analysis of the trailer down below.
[embed]https://youtu.be/v7gdE3HTkik[/embed]
The story focuses on a crew of three main characters; Tyler, Mac and Jess. After Tyler was betrayed by a childhood friend working for The House, he assembles his crew in order to get revenge on The House and take back what is theirs.
Tyler "Ty" Morgan
Ty is the street racer of the crew, with killer racing skills and desire to win, and will be character you play as for Race and Drag events throughout the story. Ty was born in The Barrio, Silver Rock's low-income neighbourhood, spending most of his time in the shadows of the casinos. As he grew up, he took to a life of a being an Outlaw and Mechanic. He will stop at nothing to win the Outlaw's Rush and bring down the House, no matter who he must beat to get there.
Sean "Mac" McAlister
Mac is the off-road and drift specialist of the crew, an overexcited driver with an unpredictable style. Mac was born in Hackney, London, where at a young age got mixed in with the wrong crowd. He eventually moved to Silver Rock, with a desire to chase the 'American Dream', but soon fell onto some hard times. Mac is the heart of the crew: he never stopped dreaming about making it big, and his infectious optimism carries Ty and Jess through the hard times.
Jessica "Jess" Miller
Jess is a runner, a driver who is hired by the most rich and infamous around Fortune Valley to get them out of sticky situations. She's the most level-headed of the crew, and the character you'll play as for Runner class missions. Jess was born in the mountain areas of Mount Providence, to a rick family with criminal underworld connections. She rebelled by joining the police academy, but was demoted after taking her police cruiser for a joy ride.
In addition to the three main protagonists, the Story Trailer revealed three new characters that will play a major role throughout Need for Speed Payback's storyline, both aiding and going up against Tyler, Mac and Jess.
Ravindra "Rav" Chaudry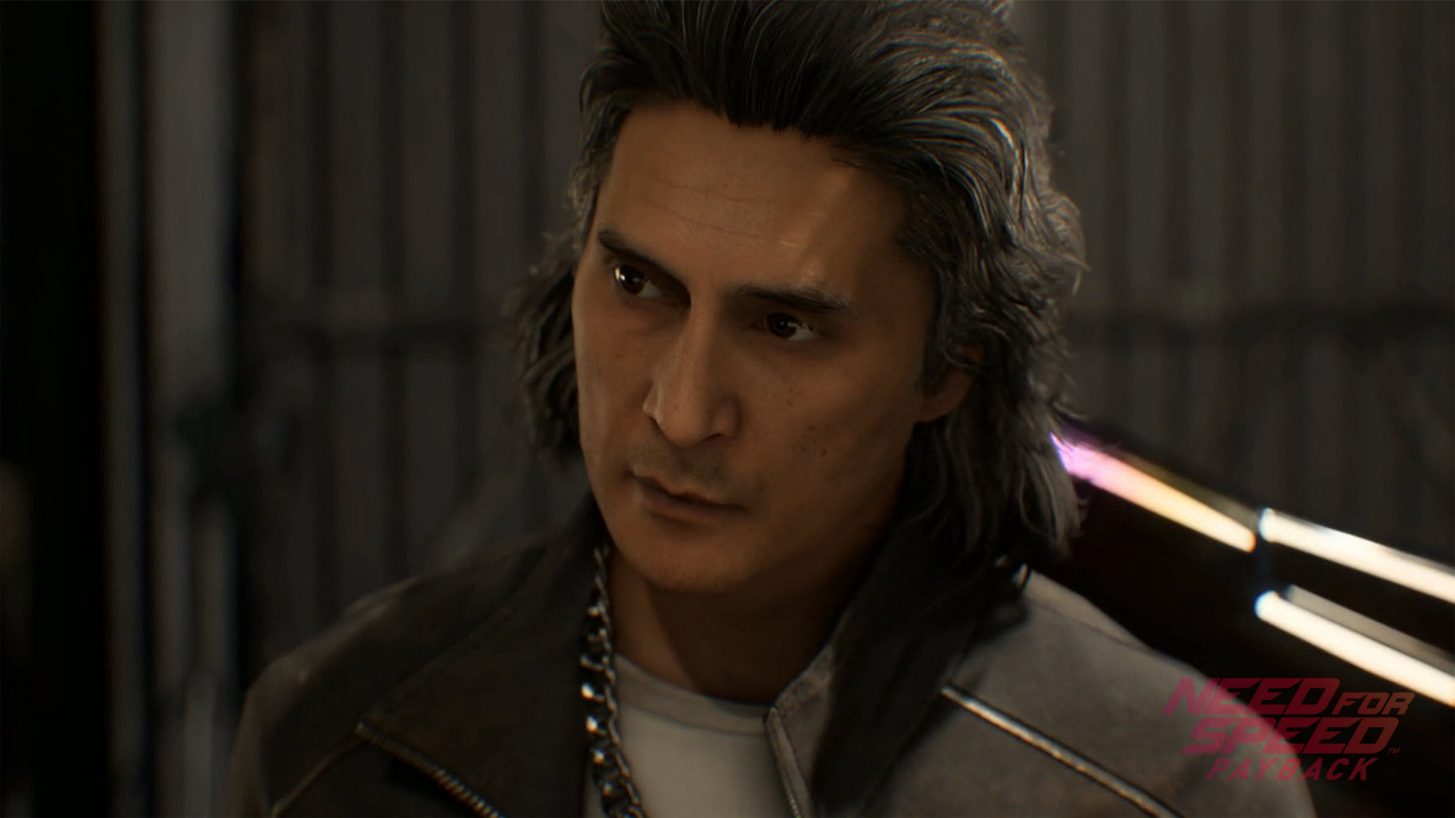 Previously revealed in the Customization Trailer, Rav is a Mechanic that will be helping Ty, Mac and Jess during the story as they exact Payback on The House. Born in Singapore to Bengali parents, he escaped his difficult childhood by growing up around tune-up shops, before eventually working for an East Asian Defense contractor as a Mechanic and later moving to America, where he took over an abandoned military base known as Airfield 73.
Lina Navarro
Lina is one of the antagonists in Need for Speed Payback, working for The House as their street racing representative. Lina was a childhood friend of Ty's from The Barrio, and one of Fortune Valley's best street racers.She's a driven, passionate businesswoman who will stop at nothing to shape Fortune Valley in her own image.
Marcus "The Gambler" Weir
Not much is known about Weir's personal life or his intentions with the crew, other than he is referred to as "The Gambler". He is notoriously known in the casino scene of Silver Rock as relentless risk-taker who lives for impossible odds, risen through the Fortune Valley scene through wits and guts alone. Driven by a manic obsession with odds and probabilities, Weir is always on the lookout for the next big gamble, the next round of high-stakes winner-takes-all.
While Ghost have not made a Need for Speed storyline on this level before - with Rivals featuring a messy meta-story and Need for Speed (2015)'s comprising of edgy FMV actors with a storyline with no villains - this definitely looks to be a step in the right direction for Need for Speed fans that have been asking for a proper, gripping and action-packed narrative since the Black Box era of Need for Speed games.
While the trailer hasn't necessarily made me invested in the characters just yet, its great to finally get our first look at the three main characters and learn more about the side characters and protagonists that will play a major role during the games storyline. Here's hoping that third times the charm and Ghost have created likeable characters players will get invested with, and will carry over into future Need for Speed games going forward.
Need for Speed Payback launches 10th November on PS4, Xbox One and PC, or for Digital Deluxe purchasers on 7th November. Additionally, EA and Origin Access subscribers will have access to a 10 hour trial starting 2nd November.