Forza Horizon 4 Full Map Revealed, New Online Freeroam and Photo Mode Details
Playground Game hosted their second Forza Horizon 4 livestream earlier, focusing specifically on the games Autumn season this week (last week focused on Summer), revealing Forza Horizon 4's full map and new details including Online Photo Mode, Forzathon, Horizon Life and More.
Throughout the livestream, we were given a look at Forza Horizon 4's recreation of United Kingdom showcasing parts around Britain including the Scottish Highlands, Astmoor and the various countrysides.
A full stitch-up of the map has been created by reddit user masterzh which you can view below:
New Bodykits were also revealed during the stream. While last week it was revealed Forza Horizon 4 is adding 30 new bodykits, we got our first glimpse at a Jeep Cherokee Trackhawk Off-road kit, a Nissan 350Z Rocket Bunny Kit, and new kits for a Porsche 911 and Mazda RX-7.
Forza Horizon 4 features far more open areas compared to previous games in the series, with the stream showcasing a modified Jeep taking to the Scottish Highlands climbing huge hills and mountains which previously would have been blocked off by invisible barriers in the last games.
Horizon Life, Forza Horizon 4's version of seemless drop-in drop-out online freeroam was also showcased with the team revealing some new details. As revealed at E3 2018, you can quick chat with other players in your session, however quick-chat options can be mapped to the D-Pad. If you are not in a group with other people, their vehicles will appear as Ghosts and will not affect you.
Playground reiterated that Forza Horizon 4 is not an always-online game, with a setting in the menus called 'Horizon Solo' which allows you to jump into an offline session at any time which will replace any online players in the world with drivatars.
Forza's signature Rewind feature will be available in online freeroam, with all players rewinding with you however was not fully explained how this system works in an online environment.
Photo Mode is also available in Online Freeroam, which works in a similar fashion to The Crew 2's photo mode which will effectively pause the game the moment you enter to allow you to snap your desired photo.
Forza Horizon 4 will also earn progression and in-game rewards by taking and sharing photos. Anything you do in Forza Horizon 4, from exploring the map to completing skills, leveling up and winning races, will progress your career in the game.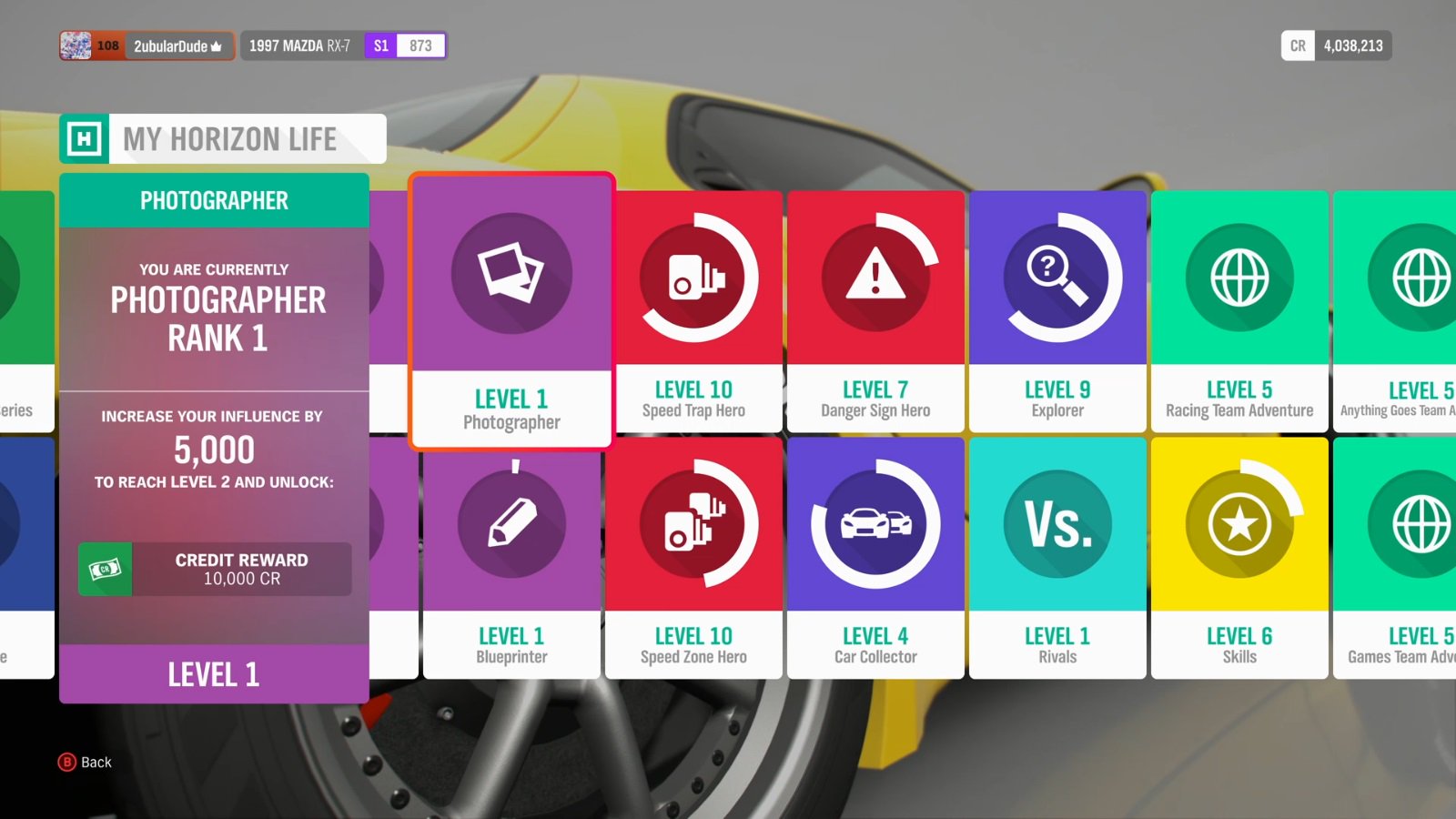 A first-look was shown at a Forzathon Live event in action was also showcased during the stream. These events occur randomly during the session, with players being alerted one is beginning soon. Similar to Burnout Paradise and Most Wanted 2012 Speedlists, you'll drive to these events and wait for all players to arrive to be able to participate.
Each players works together to complete a set of challenges which progress in Stages depending how far you get. The first showcased was earning scores at a Speed Zone, with everyone working towards reaching a certain speed. The second was earning scores at a Speed Trap.
BlackPanthaa has also made a video about all these new details from Playground Games' stream and showcases the new gameplay that was shown off, which you can find below to check out the new gameplay for yourself!
Forza Horizon 4 releases on Xbox One and Windows 10 on October 2nd 2018, or September 28th 2018 for Ultimate Edition purchasers, and will be available free for Xbox Game Pass subscribers at launch