Forza Horizon 4 Features 30 New Bodykits, Spacers, Gymkhana Course and More
Playground Games have revealed tons of new gameplay details for Forza Horizon 4 during their recent Summer livestream - a weekly livestream series planned to cover each of the games four seasons leading up to launch.
While there was a lot to cover in this one hour livestream, heres a recap of the most noteworthy information:
There are a total of 30 new bodykits being added, including a selection of Rocket Bunny, Liberty Walk, RWB and other off-road kits. A Rocket Bunny Nissan Skyline R32 and Liberty Walk McLaren 650S were shown off in this stream.
 
Spacers are being introduced in Forza Horizon 4, which give you the ability to customize the offset of your wheels to fit a vehicles arches - perfect for widebody kits and stance builds with unaligned fitment.
 
Vehicle Customization is now done outside your Houses rather than inside Horizon spaces this time around. This helps with livery design as natural lighting will affect your car than indoor lighting, which gives a better sense of how liveries will look in the game world.
A new 'Car Masteries' system was briefly teased in the Upgrades menu, which could potentially be a new perk system. No information has been revealed, however the tab features a widebody Ferrari 458 with a counter for how many masteries have been purchased, with the BMW and Skyline shown on stream having different numbers of masteries.
 
Character Customization was revealed for the first time, with a selection of 14 preset avatars to select from. Players can customize their character with over 500 clothing items options, with all items available no matter what gender your character is. These include shirts, jackets, pants, glasses, hats, watches, nose moustaches, gloves and even special Chicken Suit outfits.
 
These clothing items feature a rarity system, with Green being common and progressing in rarity to Blue, Purple and Gold. Emotes were also showcased, including Dab, Floss, Hotline Bling, Thumbs Up, Macarena and more - with up to 50 emotes available at launch.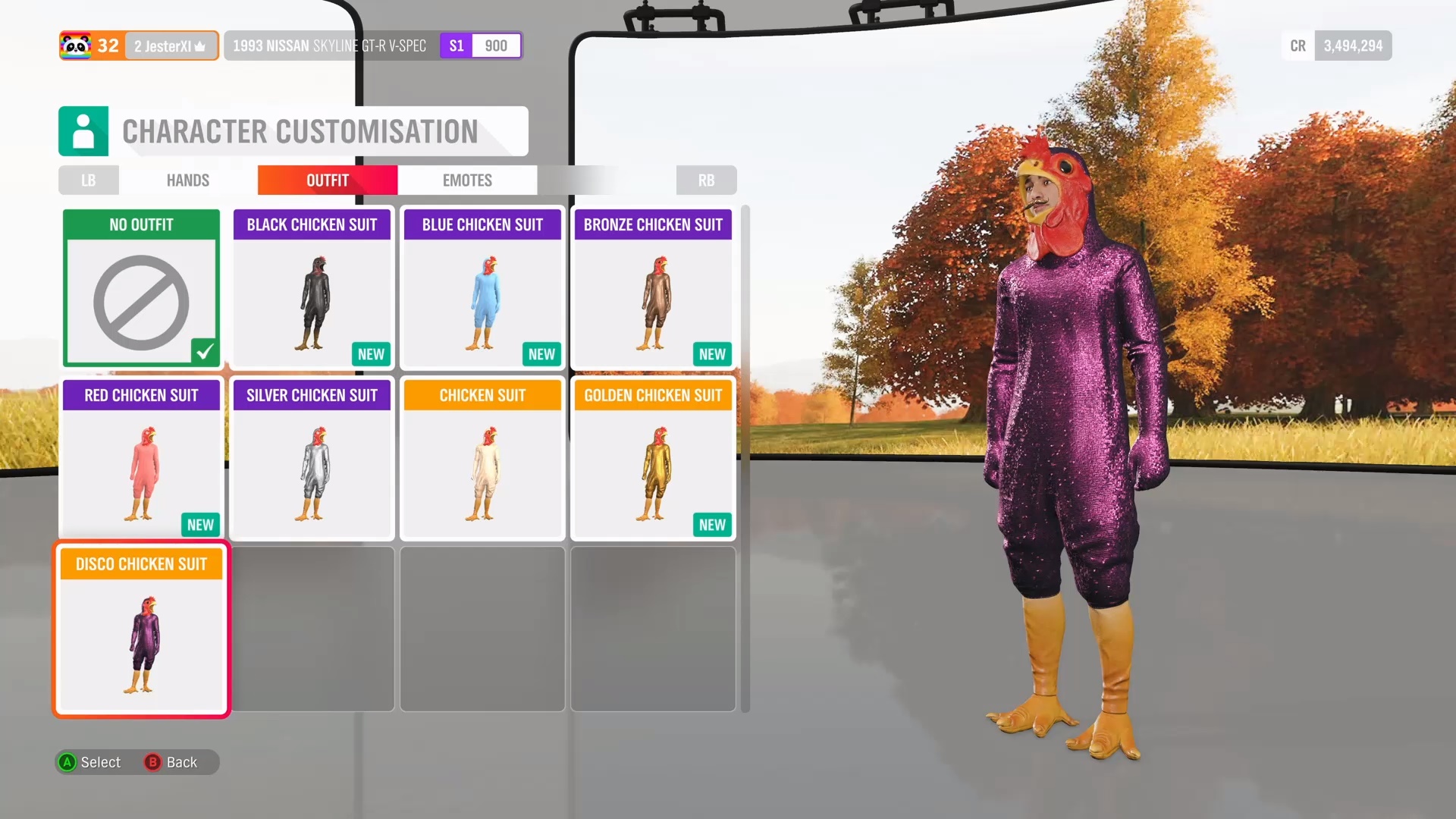 As revealed during E3, you will be able to purchase houses in Forza Horizon 4. During the livestream, it was revealed that there are a total of 12 houses in the game - with the first house given to players for free during the the games opening hours.
 
The livestream showcased two of the twelve houses: One set in the village of Broadway in Cotswalds called The Gables which will be every players starting house, and one set in Ambleside in the Lake District called Sunflower Meadows.
 
Edinburgh Castle is one of the twelve houses, and is the most expensive to purchase costing "millions and millions". Purchasing the Edinburgh Castle will reward players with a Crown and a Royal Wave customization option for their characters.
 
All purchasable houses grant players with unique perks, with one allowing you to Fast Travel anywhere on the map. Perks for other houses have not been revealed yet.
An air strip location is confirmed inside the map and takes the form of an abandoned airfield. This airstrip features a gymkhana-esque obstacle course filled with props perfect for drifting montages and gymkhana recreations.
 
Drag Races can still be done at the air strip, with another Drag Strip location existing near the Horizon Festival. Drag Races can even be done on frozen lakes and beaches during winter.
 
Car Meets will be in Forza Horizon 4, with more car parks and lay-bys compared to Forza Horizon 3.
 
Forza Horizon 4 will feature animals in free-roam unlike Horizon 3 such as sheep in paddock areas. These animals will also change during seasons, with sheep having more wool during Winter and less during Spring.
Forza Horizon 4's Britain is far more vertical compared to previous maps, with Scottish Highlands and Welsh Valleys as examples of the different types of elevation changes. Plenty of roads were showcased which are ideal for hill climb drifting filled will loads of hairpin corners.
 
You can still expect it to rain during Summer, though rivers and streams will have noticeably less water compared to other seasons.
 
Wheelspins will be returning in Forza Horizon 4, and come in two types: Regular and Super. Super Wheelspins will contain three spins while Regular contain one. Wheelspins can still be earned by leveling up.
 
Bonus Boards will also be returning and scattered around the map, with some now placed in hard to reach places to question players on how to smash them.
BlackPanthaa has also made a video about all these new details from Playground Games' stream and showcases the new gameplay that was shown off, which you can find below to check out the new gameplay for yourself!
Forza Horizon 4 releases on Xbox One and Windows 10 on October 2nd 2018, or September 28th 2018 for Ultimate Edition purchasers, and will be available free for Xbox Game Pass subscribers at launch